Diane began her career in the fashion industry in 1979 as a makeup artist but soon found herself on the other side of the camera. She has spent over thirty years as a model working internationally in Tokyo, Milan, New York, Paris and across Canada. As a fixture for several years on the European runway circuit, she worked with such designers as COMME des GARÇONS, Chanel and Karl Lagerfeld.
When she returned to Vancouver in the mid 80's she soon found an outlet for her wealth of experience. In no time at all she began work as a makeup artist, stylist, production assistant and studio manager for several fashion photographers. Her work has appeared in various publications.
Diane then started to work with the city's best show coordinators and choreographers as a show production assistant and stylist, putting to use all those years of training in Europe and Asia and laying the foundation for future work. Her style is well known for its energy, sophistication, clarity and attention to detail. With many show productions to her credit, Diane continues to be a dynamic member of the fashion community who loves to promote the many clients that she works with.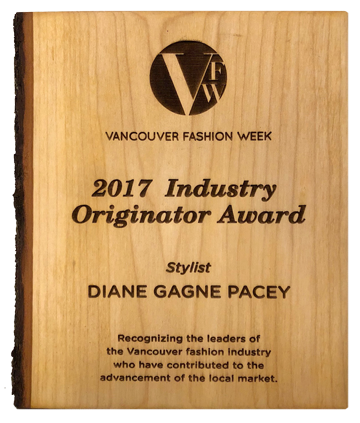 Currently, Diane is sharing her wealth of knowledge and experience as a Personal Shopper at Holt Renfrew – Vancouver. In 2016, she was selected as one of Vancouver's Best Dressed by Vancouver Magazine and was recently the Industry Originator Award, in the category of Stylist, by Vancouver Fashion Week.
When she is able to step away from fashion, Diane enjoys spending time with her husband Robert and their dog, Luna, as well as gardening, photography, yoga, travel, craft beer, social media and discovering new music.